This memorial website was created in the memory of our loved one, Mark Martinez who was born in Nevada on August 30, 1983 and passed away on April 30, 2005 at the age of 21. We will remember him forever.


Thank you for visiting Mark's site, please feel free to post a memory, or light a candle.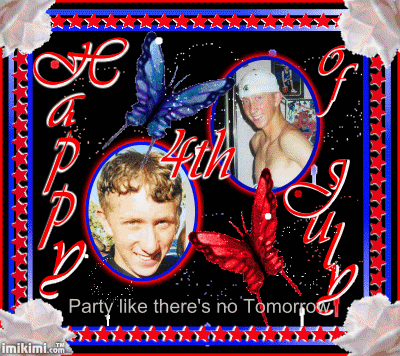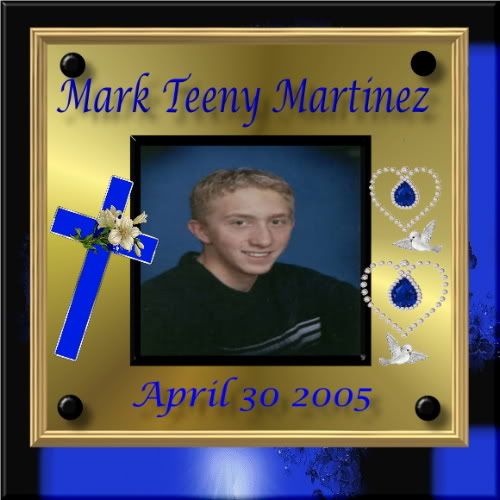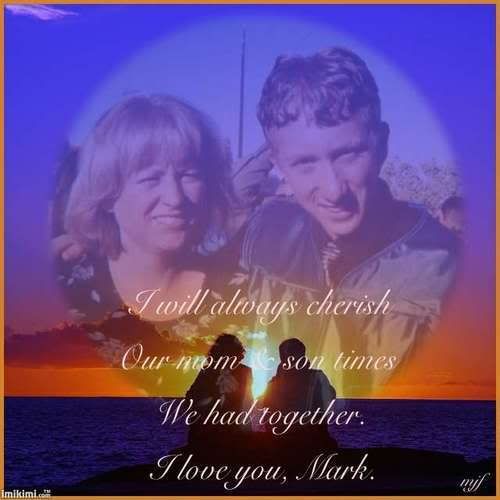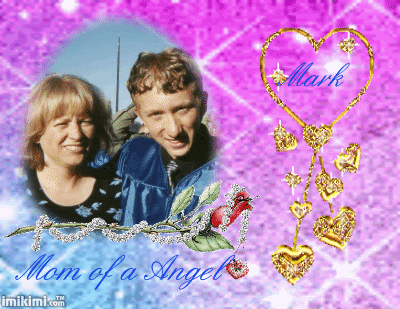 PLEASE VISIT THE TIMELINE

TAB TO SEE MARK'S LIFE

Check out my MYSPACE
www.myspace.com/memory_of_teeny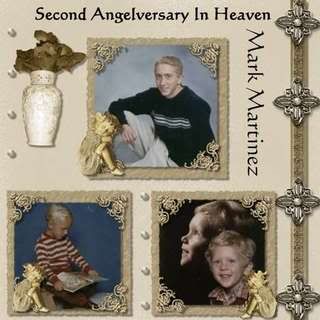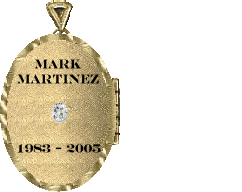 +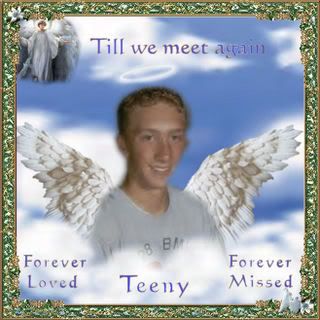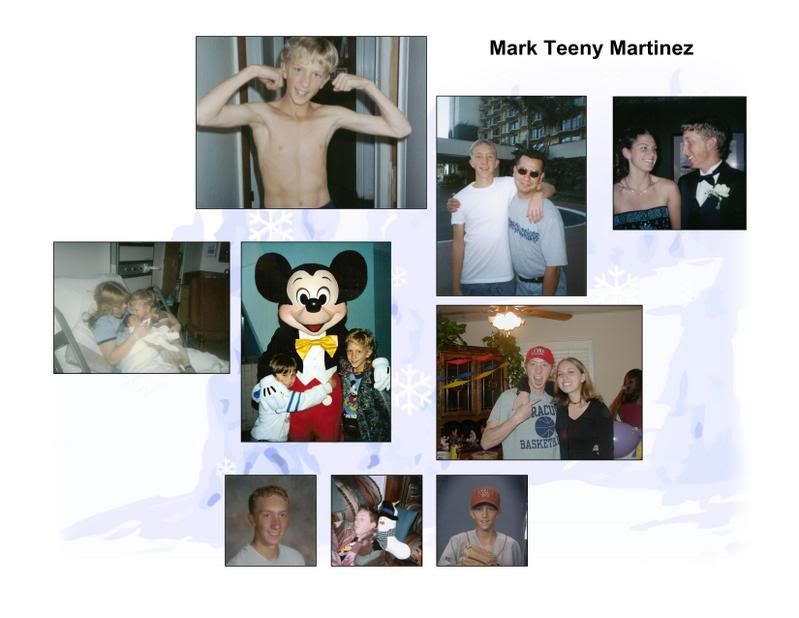 Mark was such a fun young man. He would make you laugh soon as he walked into the room. He was silly and really didn't care what you thought about him when he was acting funny. His favorite picture pose was to stick his tongue out.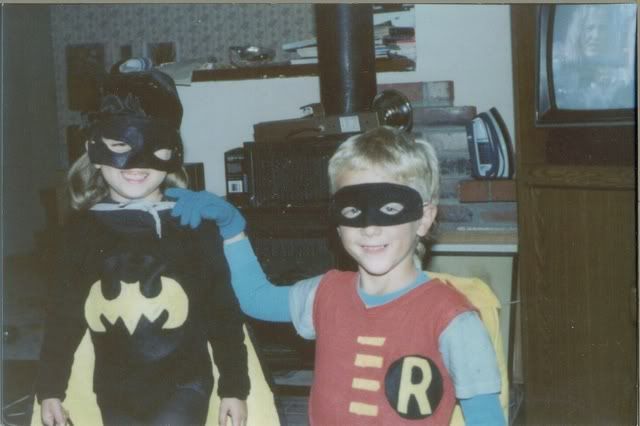 I Do Believe
There is nothing i can do
to make him come back.
There are no words I can say,
that can replace he words you long to hear
There are no answer's I can give,
that will satisfy your questions.
There is not another soul I can introduce you to that will ever replace his,
And there is no love I can offer that will ever replace the love you shared.
I can not promise your broken heart will ever be complete,
I will not say it could have been worse.
I will not deny it was a tragedy,
I will not lie and tell you he will come back.
He never really left.
I do promise he hears you when you speak,
I will say he loves you no matter the distance.
I will not deny that he is in a better place,
And I will not lie; he is waiting to greet you someday.
He is in every you step you take,
He is in everything you do.
He is in the air you breathe,
He is in every beat of your heart.
" He is like the wind. You can not see him...but you will always feel him"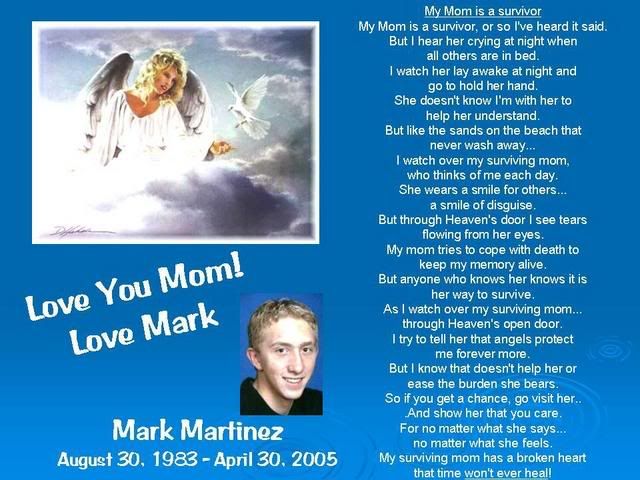 The Father's day after Mark passed, Luis was stuck in Denver doing training. Heather and I didn't want Luis to be alone away from his family, so we flew out there to spend the weekend with him. Carmen, Mark's Nina went with us, and Mitch was there too.

On the plane ride there, I sat next to a young high school girl returning to Denver from a singing competition in California. We talked on the plane and she had just lost 6 months before her sister who was the same age as Mark. She told me about singing this really cool song at her sisters funeral.

As we were leaving the plane, she approached us in the lobby and asked permission to sing the song to us. Wow, it was amazing. This young girl, with an absolutely beautiful voice singing to me, Heather and Carmen in an airport lobby.

I have changed to song playing on this website to that song. It is called Never be Forgotten and is sung by Jessica Andrews.

Here are the lyrics.

"Never Be Forgotten"

I'll always see your face
The corner of your smile
And all the little things that no one will ever know
Like it was yesterday, won't ever fade away
Goodbye is just a word that I will never say

You will never be forgotten
A million days could pass us by
But what is time but just a dream
Oh I still feel you here with me
You're more than a memory
Oh you will never be forgotten

I can't hold your hand
Or look into your eyes
And when I talk to you
It just echoes in my mind
But If hearts are made of dust
And if we fell from the stars
I look up tonight and know just where you are

You will never be forgotten
A million days could pass us by
But what is time but just a dream
Oh I still feel you here with me
You're more than a memory
Oh you will never be forgotten

And the world just keeps on going
It has no way of knowing
That you're gone

You will never be forgotten
A million days could pass us by
But what is time but just a dream
Oh I still feel you here with me
You're more than a memory
Oh you will never be forgotten










Mark's Dad, Luis and his two best friends, Jon and Mitch all got tattoos in Mark's honor. The men all played softball together ever since Mark was just 14 years old. A few years ago, Mark asked me to sew onto his jersey a patch of Mighty Mouse, his favorite cartoon character. Dad followed suit and asked me to sew on to his jersey a patch of Marvin the Martian. All the other players wanted to get into it and so Mom went on Ebay and bought patches for all the guys of their favorite cartoon characters. After Mark died the patches meant more to all the guys. So some decided to get tattoos in Mark's memory. Luis has Marvin the Martian pitching to Mighty Mouse.. Jon Smith has Mighty mouse sliding into Home and his character, Wild E Coyote at the UMP calling him safe. And Mitch Boggs got Mighty Mouse running in to bat, (late as usual like Mark) with his glove on his head and Fog Horn Leg Horn handing a bat to him. The bat even has the word FREAK on it. "The Freak" was the name of the bat that Mark always used.




Meeting Kobe Bryant






Heather and I went to visit my friend in Huntington Beach California. We spend Friday afternoon at the beach relaxing. While we were there, Kobe Bryant showed up with his little girl to play on the beach. You could tell people were watching him, and some came up and shook his hand. I, however, got a bit teary eyed, however because growing up Mark thought Kobe was such a great basketball player. Mark even named our dog Kobe when he was about 16. I cried sitting at the beach because I was there 50 feet from Kobe Bryant and 6 weeks ago, I would have been on the phone to Mark immediately making him jealous that I was on the beach watching Kobe, and He wasn't. But of course, now, I don't have Mark to call. We packed up to leave, and Kobe started to the parking lot at the same time. At this point, I was only 15-20 feet away from him, and I just decided to go up to him and say hello. I told him about Mark, how he was the starting point guard on his high school basketball team, how he adored him so much that he once named his dog Kobe, and how I had been sitting there crying, because my son passed away 6 weeks ago, and I can't call and tell him, that I was sitting there watching Kobe Bryant playing on the beach with his daughter..... Kobe took my hand, thanked me for sharing my story and about my son, (and the dog) with him. He told me that he would be praying for me and my family. He was so kind and compassionate. My friend, Mary came up, and we all talked for a couple of minutes. Then I told him that I was going to leave him alone, he took my hand again, thanked me again for sharing with him about Mark, and told me again that he will be praying for me...